By Sheela Szymkowiak, Certified Reflexologist and Holistic Health Educator
If you experience lack of balance, sciatica, lower lumbar pain, stiffness in the hips, neuralgia, calf muscle spasms, pain and stiffness in the knees, ankle or foot – Traditional Chinese Medicine suggests that it could be due to a blockage in the flow of energy (Chi or Qi) in your Urinary Bladder (UB) Meridian.
Upper Body and Head Conditions.  Particularly in Winter, a blockage in this Meridian may have you feeling lung & sinus congestion, eyebrow and top of head pains, dry eyes and overall emotional and mental fatigue.  In Traditional Chinese Medicine, this meridian is associated with the autonomic nervous system.
The UB Meridian is the partner Water Element and Winter organ to your Kidney Meridian (see Part I in December's blog).  Besides numerous physical aliments, mental strain is also seen as being linked to blocked energy along the UB meridian because it begins in the head and face areas.  This is the body's longest meridian with 67 acupoints in total from the head to the baby toe!
SELF-CARE TIPS

Since some of the UB acupoints below are located on the back, you will need to learn and practice with a partner.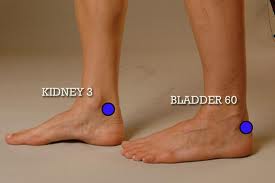 This excellent acupoint helps relieve bladder infection (cystitis), intestinal cramps with flu and low back discomfort, especially sciatica.
Bladder 60: Locate this point on the outside of the ankle (baby toe side), halfway between the outside anklebone and the Achilles tendon. Caution – do not use Bladder 60 during pregnancy.
This website demonstrates a variety of great acupressure points for colds and flus, including:
(please link to the website for pictures to help locate the acupoints below)
To Relieve Colds, Sinus Congestion, Frontal Headaches & Tired Eyes – Bladder 2 (Drilling Bamboo) Location: On the face, in the indentations of the eye sockets. On either side of where the bridge of the nose meets the ridge of the eyebrows.
To Strengthen the Immune System, Alleviate Low Back Pain & Overall Fatigue – Bladder 23 (Sea of Vitality)  Location: These acupoints are found on the back, 2 finger widths in distance from the spine, both sides and level with the 2nd and 3rd lumbar vertebrae. To locate them easily, start at the 5th lumbar at the base of the spine and count up to the 2nd and 3rd vertebrae. Benefits: strengthening the Immune System, alleviating low back pain and overall fatigue, fortifying the digestive system.
To Relieve Coughing, Breathing Difficulties, and Respiratory Problems – Bladder 38 (Vital Diaphram) Location: On the back, between the shoulder blade and the spine at the level of the heart.